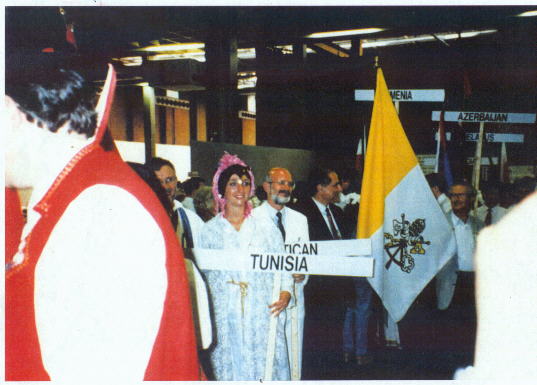 This idolatrous standard of Rome was placed by the Vatican on the stage of the 1995 General Conference Session of Seventh-day Adventist in Utrecht, Netherlands.
Omega Apostasy in
the Seventh-day Adventist Church
The Lord will return soon, but before that happens our beloved Seventh-day Adventist Church and its individual members will go through some very trying times. It was predicted by Ellen White that as we near the end, the church will have the appearance of falling, but it will not fall. It was predicted that the condition of God's people overall will be much like the condition of the Israelites when Jesus walked this earth. It was also predicted that false theories would be introduced right in our midst that would lead many astray. This article will deal with some of those false theories that have taken root in the minds of many professing Adventists. The article is not intended to condemn anyone, but only to reveal the nature of those false ideas, and to warn the unsuspecting.
TO READ THE WHOLE ARTICLE CLICK ON LINK BELOW: