(11-Aug-2013
Adolfo Nicolás Pachón, Superior General of the Society of Jesus (Jesuits).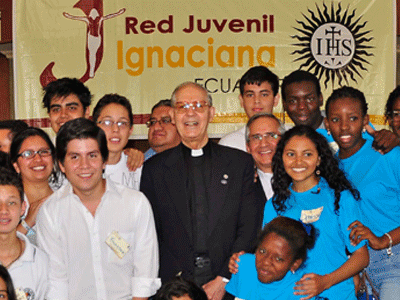 11 August 2013
,
Fr. General
along with Fr. Gabriel Ignacio arrived in Colombia to visit the Province of Colombia and take part in the 8th World Congress of Alumni of the Society.
During his stay in the Colombian Province from August 11 to 14, he will go to the cities of Cartagena, Bogotá and Medellín
. On August 15 he will participate in the Alumni Congress to be held at the Colegio San Ignacio de Medellín, and on August 16, he will travel to Ecuador for the visit to that Province. On August 17 and 18, he will remain in the city of Quito and on August 19 and 20 will visit the city of Guayaquil. He returns to Rome on August 21.
In both Colombia and Ecuador, Father General will have several meetings with Jesuits, with students from our schools, with apostolic collaborators and friends and benefactors of the Society
. His trip includes meetings with the Apostolic Nuncio of each country and with the Archbishops of each of the cities visited.