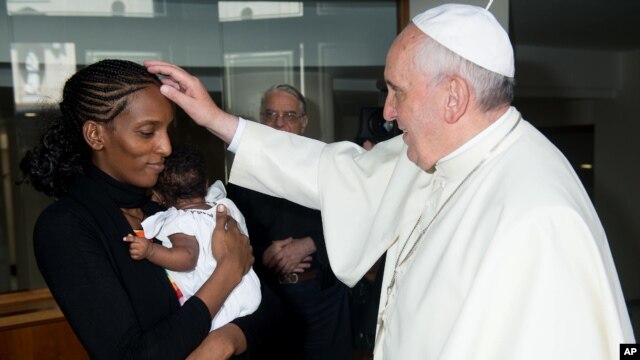 Italy's vice minister for foreign affairs, Lapo Pistelli, left, greets Mariam Yahya Ibrahim and her family arriving from Sudan in Rome July 24, 2014.
Soon afterwards, Ibrahim, her husband and two children had a private meeting with Pope Francis in the Vatican.
"The Pope thanked her for her witness to faith,''
Vatican spokesman Father Federico Lombardi said.
The meeting, which lasted around half an hour, was intended as a "sign of closeness and solidarity for all those who suffer for their faith,'' he added.
What led to departure
There were no details on what led up to the 27-year-old's departure after a month in limbo in Khartoum, but a senior Sudanese official said it had been cleared by the government.
Italy joined with the United States in helping to free Ibrahim
, and the country's vice minister of foreign affairs accompanied her on the flight from Khartoum.
In May, she received the death sentence on a conviction of apostasy. The conviction stemmed from a Sudanese law stating children of Muslim fathers are considered Muslim.
Ibrahim was born to a Christian mother and a Muslim father. She was brought up as a Christian after her father left the family.
Adultery charges
A court also sentenced Ibrahim to 100 lashes on charges of adultery for marrying Daniel Wani, who is a Christian. Under Sudanese law, marriage between Muslims and non-Muslims is not permitted.
In June, a Sudanese court overturned Ibrahim's conviction. She was released from prison but was detained by Sudanese authorities when her family tried to board a flight leaving the country. Officials questioned the authenticity of her travel documents.
The family then took refuge at the U.S. Embassy in Sudan.
Ibrahim's husband, Wani, is a U.S. citizen
.
Italian officials say the family plans to travel to the U.S. within a few days.
Some information for this report provided by Reuters
Source
.