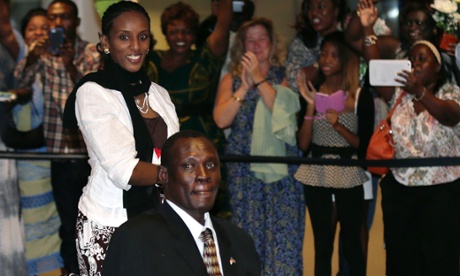 Meriam Ibrahim and her husband Daniel Wani after arriving in the US. Photograph: Charles Krupa/AP
Photo (Courtesy)
http://www.theguardian.com/world/2014/aug/01/meriam-ibrahim-arrives-in-us
After Escaping Death Sentence for 'Apostasy,' Ready to Make Home in New Hampshire
Vatican City, August 01, 2014 (
Zenit.org
)
Staff Reporter
The Christian Sudanese woman who faced a death sentence for not renouncing her faith is finally safe in the United States
.
Meriam Ibrahim arrived in the U.S. on Thursday with her family, reported Catholic World News.
Earlier this week, Meriam, 27, her husband, Daniel Wani, and her two young children, Martin, 18 months old, and Maya, born two months ago in prison, met with Pope Francis in Rome
The Italian government and the Vatican negotiated to release her.
She came to Rome with her family July 24 in a government plane, their last stop before flying to the States, to settle in New Hampshire. Her husband is a U.S. citizen.
Ms. Ibrahim faced a death sentence in Sudan because she refused to renounce her Christian faith.
The Holy Father, who met with her and the family at the Vatican the day they arrived in Rome, praised the Sudanese woman for her "courageous witness to perseverance in the faith."
At the same encounter,
she and her family thanked the Holy Father
for his support and for that of the Church, specifically for the prayers.
(August 01, 2014) © Innovative Media Inc.