Nirmalya Dutta
August 18, 2014 at 11:45 am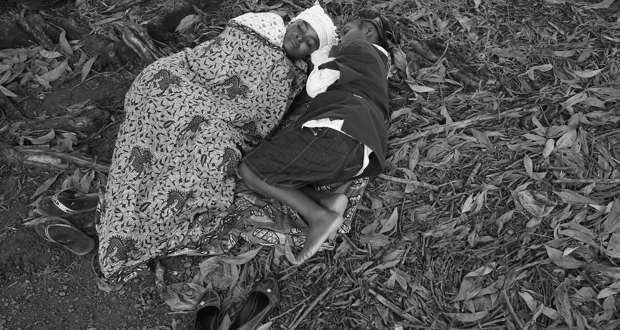 MONROVIA, LIBERIA – AUGUST 17: Hanah Siafa lies with her daughter Josephine, 10, while hoping to enter the new Doctors Without Borders (MSF), Ebola treatment center on August 17, 2014 in Monrovia, Liberia. The facility initially has 120 beds, making it the largest such facility for Ebola treatment and isolation in history, and MSF plans to expand it to a 350-bed capacity. Tents at the center were provided by UNICEF. The virus has killed more than 1,000 people in four African countries, and Liberia now has had more deaths than any other country. (Photo by John Moore/Getty Images)

There's nothing more dangerous than religion in times of epidemics.
The Church has always been a hindrance in controlling outbreaks, as the HIV/AIDS scenario shows. Pope Benedict XVI famously said that HIV/AIDS in Africa should be tackled with fidelity and abstinence and not by condoms. Calling it a cruel epidemic he had said that: 'The traditional teaching of the church has proven to be the only failsafe way to prevent the spread of HIV/AIDs.' Similarly, the Taliban has been very critical of polio vaccination in Pakistan and Afghanistan, going so far as to attack vaccination officials believing it to be an
American plot to sterilise Muslims
.
So it's no surprise that the religious leaders in Africa are doing more harm than good when it comes to the Ebola outbreak.
Religious leaders in Liberia are convinced that the Ebola virus is a plague unleashed by god to punish 'immoral acts' like homosexuality. Various church leaders of the Liberia Council of Churches (LCC) reportedly attended a meeting to discuss 'a spiritual response' to the outbreak which has claimed over a thousand lives in West Africa. A statement detailing the resolution summarised: 'Liberians have to pray and seek God's forgiveness over the corruption and immoral acts (such as homosexualism, etc.) that continue to penetrate our society. As Christians, we must repent and seek God's forgiveness.'
Liberian President Ellen Johnson Sirleaf announced a 90-day state of emergency in the country, warning that 'ignorance and poverty, as well as entrenched religious and cultural practices' is worsening the epidemic. She also called for three days of fasting and prayer 'to seek God's mercy'.
People in Liberia and even Sierra Leone continue to fill churches to seek deliverance from the deadly outbreak defying official warnings to avoid public gatherings.
Despite the warnings, people flocked to sing and pray at churches in Liberia's capital Monrovia, with people comparing Ebola to the brutal civil war that ravaged the country and killed a quarter of a million people.
With no treatment available, churches furnished plastic buckets containing chlorinated water for worshippers to disinfect their hands. Not surprisingly, some of the locals terrified by the disease have attacked health workers and more recently ransacked a quarantine centre.
Why fasting and Ebola don't mix
The Ebola death toll in West African countries stands at over 1000 showing no early hope of ending soon. Citizens are now joining hands and resting their faith on the almighty to intervene the spread of Ebola. The Women in Peacebuilding Network (WIPNET), who had earlier undertaken mass action for peace, recently declared a 14-day-fasting and prayer to seek spiritual help and end the Ebola outbreak. While the group's religious approach was able to bring peace during war time in Liberia, the belief it will help in putting an end to the Ebola outbreak seems impractical.
Ebola infection is caused by a virus that directly attacks the immune system. A recent research published in the journal Cell Host & Microbe has revealed that the Ebola virus protein called VP24 actually disrupts the cell's innate or natural immune response, making it extremely deadly. Knowing that the virus will instantly target the immunity, fasting is something that may go against preventing the spread of Ebola. Although there is evidence that fasting might enhance the ability phagocytic cells to engulf organisms to some extent, whether 14 day fasting will actually help the immune system to strengthen is questionable. Without meeting the basic nutritional needs of the body, the immune system might not function optimally, increasing susceptibility to infections.
Latest Ebola News in India
In the wake of the Ebola outbreak in West Africa, sex workers in Kolkata's biggest red light district area Sonagachi have been asked to not entertain Africans. Durbar Mahila Samanwaya Committee (DMSC), a forum of 1,30,000 sex workers in West Bengal, has warned of a life risk should they come in contact with infected persons.
'We have requested the sex workers not to entertain Africans, as it can be a life risk for them if they get infected by the highly contagious Ebola virus causing havoc in some West African countries,' Mahasweta, a member of the DMSC, told PTI.
Read more…
What is ebola virus?
The Ebola virus disease (EVD), formerly known as Ebola hemorrhagic fever is a severe condition caused by a virus from the Filoviridae family. Known to be a condition that is transmitted from animals to humans, this virus spreads through direct contact with the bodily fluids of an infected person or animal.
How can it be prevented?
According to Dr Ratan, 'There aren't any vaccinations available as of now, so basic hygiene is of importance and a must be followed in order to prevent the onset of the condition. Simple activities like washing your hands well, drinking water from a clean source, maintaining general hygiene and cooking your meat well, can all serve as precautionary measures. Apart from that people should avoid crowded places, or those that are known to have an outbreak. It is also important that if they notice any early symptoms, they should visit a doctor immediately.'
Should people in India worry?
'It's not prevalent in India, but people living in remote areas, where living conditions are poor, are always at risk of getting infected. But largely there is no need to worry as such.' Read more:
Ebola virus — causes, symptoms, diagnosis, treatment, prognosis and prevention
With inputs from
Shraddha Rupavate
Photo source: Getty images