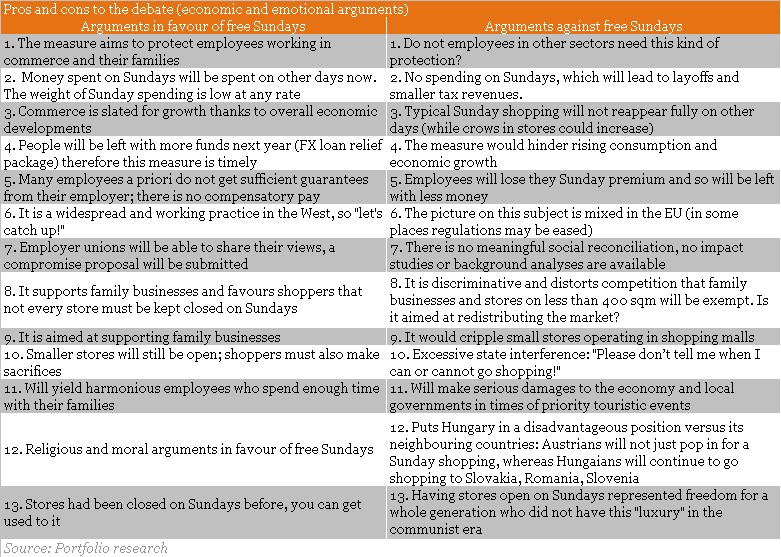 November 6, 2014, 4:53 pm
Hungarian version

Hungary's Christian Democratic People's Party (KDNP) has submitted a bill to Parliament on Thursday which, if passed, will have all stores closed at 10 P.M. on every day of the week.
The original argument for the restriction is that a shopping ban for Sundays would bring families closer
and protect employees from being exploited by their employers. There will be five Sundays in a year when stores can be open, as well as on 24 and 31 December between 6 A.M. and noon.
2014.11.06 15:19

opening hours on working days are from 6 A.M. to 10 P.M.
on Sundays and holidays businesses must be closed
stores may be open on five Sundays a year between 6 A.M. and 10 P.M.
stores may be open between 6 A.M. and noon on 24 December and on 31 December
The bill also includes exceptions and government decrees can also create exceptions to the rules.
If a store wants to be open on any of the five Sundays allowed by law it will have to announce this intention to the commercial authority at least 15 days prior to the day in question.
The exceptions
The law would make tourism services exempt, just like commercial activities in accommodations and service activities supplying commerce. The following commercial units may continue to be open on
Sundays:
national tobacco shops
pharmacies
at international airports
at railway stations and coach terminals
in the area of correctional facilities
in the area of health care institutions
on markets and farmers' markets
in fairs
petrol stations
in military unitsSpecial provision
The bill also stipulates that stores selling exclusively bakery goods and dairy products may open at 5 A.M. on regular days and be open between 5 A.M. and noon on holidays and Sundays. Newspaper stands and florists may be open between 6 A.M. and noon on Sundays and holidays.
Further exceptions that take into consideration the specifics of a given area/settlement may be determined in a government decree to be conceived at a later date, with special emphasis on the need to serve tourism, meet shopping habits and taking into consideration the interests of employees and the residential environment of a given area.
400 sqm threshold
Stores with shopping area of under 400 square metres may remain open even on the restricted days during the allowed opening hours if the operator is an individual entrepreneur, member of a sole proprietorship or a person with controlling share in a company or family member of the aforementioned.
Fines will fly
The consumer protection authority will check whether the commercial units comply with the law or not. If it find irregularities it can have the business closed.
for between 5 to 15 days on the first infringement
for 30 days on the second infringement;
for 90 days on the third infringement;
and for 365 days on any further infringement.
Here's the explanation!
The lawmakers behind the bill underline that this proposal is to put an end to a lengthy debate
by stipulating when stores can be open in Hungary.
They said that "in view of the proposer of the bill the situation is ripe for Hungary -
drawing from several western European examples, e.g. of Austria or German - to have law regulating the opening hours of commercial units
."
Opening will be banned on Sundays
and on holidays as a general rule. Opening hours will be restricted on any other day to between 6 A.M. and 10 P.M., including on Saturdays.
Source:
http://www.portfolio.hu/en/economy/hungary_christian_democrats_submit_bill_on_mandatory_sunday_rest_day.28648.html
.