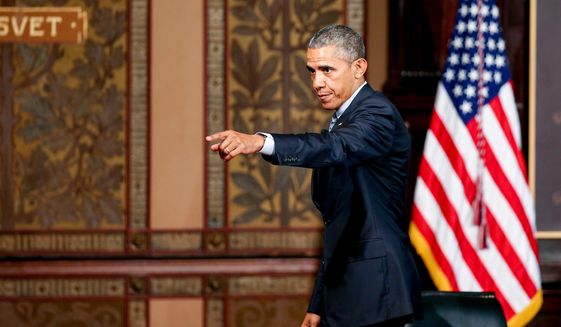 President Barack Obama points to the audience as he departs after speaking at the Catholic-Evangelical Leadership Summit on Overcoming Poverty at Gaston Hall at
Georgetown University
in Washington, Tuesday, May 12, 2015.
The president said that "it's a mistake" to ...
more >
By
Kelly Riddell
- The Washington Times - Thursday, July 23, 2015
The
Obama administration
formally announced that inspectors general will have to get permission from their agency heads to gain access to grand jury, wiretap and fair credit information — an action that severely limits the watchdogs' oversight capabilities, independence and power to uncover fraud.
An opinion, issued by the
Department of Justice's Office of Legal
Counsel, says the Inspector General
Act
of 1978 — which was written by
Congress
to create the government watchdogs in order to help maintain integrity within their agencies — does not have the authority to override nondisclosure provisions in other laws, most notably in regard to grand jury, wiretap or fair credit information.