November 20, 2015 — 10:13 AM EST

Updated on November 20, 2015 — 11:15 AM EST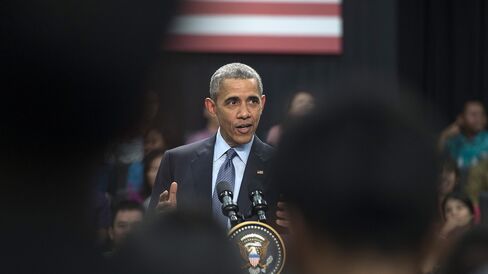 President Barack Obama answers a question during a town hall with Young Southeast Asia Leaders Initiative (YSEALI) at Taylor's University in Kuala Lumpur on Nov. 20, 2015.
Photographer: FRED DUFOUR/AFP/Getty Images
Appeal sets up possible showdown during 2016 presidential race
Administration plan seeks to shield millions from deportation.
President Barack Obama's administration moved quickly to seek a U.S. Supreme Court hearing on his plan to shield as many as 5 million undocumented immigrants from deportation, setting up the prospect of a politically charged court battle next year.
Acting less than two weeks after a federal appeals court said Obama had overstepped his authority, government lawyers called on the justices to take up the case and issue a ruling that would shape the president's legacy and the 2016 presidential race.
"The court of appeals' judgment enjoins nationwide a federal policy of great importance to federal law enforcement, to many states, and to millions of families with longstanding and close connections with this country," U.S. Solicitor General Donald Verrilli argued in the appeal.
Source
.