December 15, 2015 at 10:49 pm EST | by Michael K. Lavers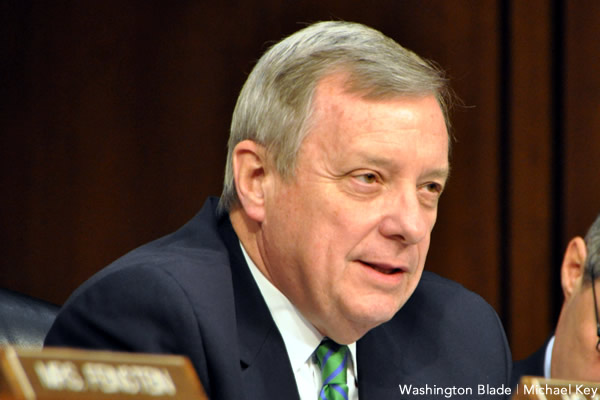 U.S. Sen. Dick Durbin on Dec. 15, 2015, sent a letter to Pope Francis in which he criticized a Dominican cardinal for
using anti-gay slurs to describe gay U.S. Ambassador to the Dominican Republic James "Wally" Brewster.
(Washington Blade file photo by Michael Key)U.S. Sen. Dick Durbin (D-Ill.) on Tuesday sent a letter to Pope Francis in which he criticizes a Dominican cardinal for using homophobic slurs to describe a gay U.S. ambassador.
The Illinois Democrat noted that Cardinal Nicolás de Jesús López Rodríguez of the Archdiocese of Santo Domingo has repeatedly described James "Wally" Brewster as a "faggot."
Durbin in his letter points out that López earlier this month said that Brewster
was promoting "faggotry" in the Dominican Republic.
Durbin further highlights the cardinal on Dec. 1
described the married gay ambassador
as a "wife" who "should stick to housework."
"The church's teachings on gay marriage are well known but the church also teaches us to show tolerance for those with different sexual orientations," says Durbin in his letter. "The intolerant public statements of Cardinal Rodríguez are inconsistent with that clearly stated value."
Durbin also notes that López and other Dominican religious leaders have organized so-called "Black Monday" protests against Brewster.
"Despite these hateful words and personal attacks, Ambassador Brewster has worked to quiet the conflict between church leaders and himself," writes Durbin. "His patience and professionalism in light of these mean-spirited attacks by the cardinal demonstrate his personal commitment to his responsibility of representing the United States of America."
Durbin further references Francis' call to "defend and preserve the dignity of your fellow citizens in the tireless and demanding pursuit of the common good" that he made in September during his speech to Congress. The Illinois Democrat also describes Brewster, who lives in Chicago with his husband, Bob Satawake, as "a personal friend."
"I supported President Obama's selection of Ambassador Brewster and he was sworn into his position in my Senate office," writes Durbin. "Ambassador Brewster is gay and was married under the laws of the United States to his partner, Bob Satawake."
Ambassador dismisses cardinal's comments on Dominican TV
Brewster last week described López's comments as "noise" during an interview that he and Satawake did with a Dominican television station.
Marianne Duddy-Burke, executive director of DignityUSA, a group for LGBT Catholics, last week called upon the cardinal to apologize to the ambassador. Advocates in the predominantly Catholic country with whom the Blade has previously spoken remain highly critical of López over his comments against Brewster and other LGBT-specific issues.
"U.S. policy is dedicated to eliminating barriers to equality, fighting discrimination based on sexual orientation and gender identity, and engaging LGBTI communities around the world," State Department spokesperson Pooja Jhunjhunwala told the Blade last week in a statement. "Ambassador Brewster, like all U.S. ambassadors, advances this policy along with many other aspects of our bilateral relationship. That there may be those opposed to the promotion of human rights in various societies around the world is not surprising, but it does underscore why this work is so important."
The Blade has reached out to the Vatican and the Archdiocese of Santo Domingo for comment on Durbin's letter.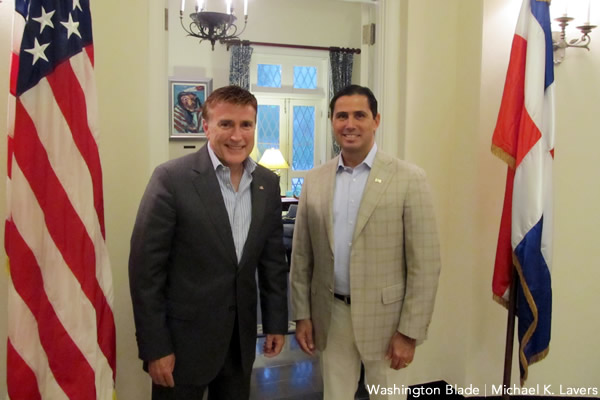 U.S. Ambassador to the Dominican Republic James "Wally" Brewster, left, and
his husband
, Bob Satawake, at their official residence in Santo Domingo, Dominican Republic, in June 2015. (Washington Blade photo by Michael K. Lavers)