By
Maeve Reston
, CNN
Updated 11:19 AM ET, Sun January 31, 2016
Story highlights
Evangelicals are among the most reliable caucus-goers every four years
They're torn between choosing Donald Trump, Ted Cruz
Clinton, Iowa (CNN) The final days before the first-in-the-nation caucuses are agonizing for many Iowa evangelicals as they waver between Ted Cruz and Donald Trump.
At events for both GOP presidential candidates across the Hawkeye state, voters say they are torn between backing the committed Christian conservative who is solid on their principles, or the once-liberal, thrice-married candidate who they believe would make the stronger president.
Sherry Benson, a 57-year-old graphic designer from Marshalltown, said she is still trying to come to terms with Trump's evolution on abortion. Benson calls abortion "the biggest sin of our country." The anti-Trump television ads detailing his shifts—with arresting clips of the candidate talking about his support for abortion in 1999—have kept that issue fresh on her mind.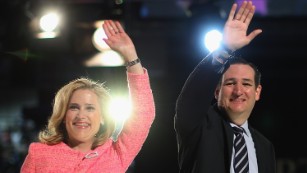 "It's been a really, really big struggle for me this time," Benson said after listening to Trump speak at a rally last week. "I think people can change, but I don't see him as the biggest conservative."
Still, Trump's forceful personality has convinced her that he could be effective as commander-in-chief.
"My Christianity and my conservative values tell me that Cruz is the logical choice," she said. "I could forgo, I think, some of my Christian and conservative principles slightly if I knew that Trump could repair the mess that the country is in. And that is something that I see in him, he might have the ability to just -- 'Boom' -- take care of things very quickly."
Retired schoolteacher Paul Thompson, 75, ranks Cruz at the top of his list because "he is an evangelical Christian, as I am," he said. But he too is feeling the gravitational pull to Trump's candidacy.
'We want to see a winner'
Thompson had a simple answer when asked to explain why Trump, a Presbyterian, is leading among evangelicals in some polls given his personal history and changing stances over the years.
"We want to see a winner, and I think we perceive him as a winner," he said.
Cruz has worked diligently for months to court evangelical voters, who often show up in droves every four years to caucus for Republicans. That decision for many evangelicals between head and heart could very well decide who wins Iowa on Monday night after a tight race between the Texas senator and the real estate magnate.
The Des Moines Register/Bloomberg Politics Iowa Poll
released Saturday evening found Trump leading Cruz 28% to 23%.
While many had assumed that Cruz would have a lock on white evangelical voters, particularly as support for retired pediatric neurosurgeon Ben Carson has waned, Trump has shown surprising strength within that voter group. In a Wall Street Journal/NBC News/Marist poll released Thursday, Trump notched the support of 31% of evangelical Christians to Cruz's 28%. But in a poll of likely Iowa caucus participants released earlier by Quinnipiac University, Cruz led Trump among white born-again evangelicals 34% to 27%.
Nationally, Trump was leading Cruz among GOP evangelicals 39% to 25%, according to a CNN/ORC poll released Tuesday.