New documents released from 'white privilege' briefing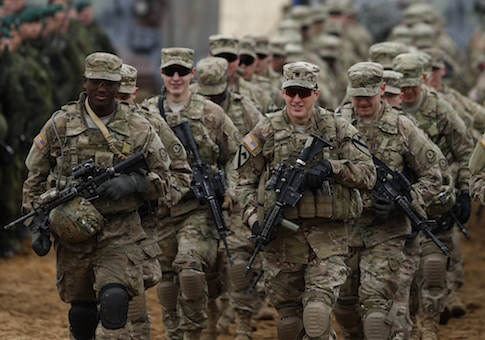 AP
BY:
Morgan Chalfant
March 9, 2016 12:40 pm
Soldiers in the U.S. Army were subjected to a "white privilege" briefing last April during which they were advised that American society "attaches privilege to being white and male and heterosexual."
Documents obtained from the Army through a Freedom of Information Act (FOIA) request shed light on the diversity training briefing, which was given to 400 soldiers in the 67th Signal Battalion at Fort Gordon, Georgia, last year. While one slide from the PowerPoint presentation used in the briefing previously sparked outrage, the contents of the full "Power and Privilege" slideshow had not been publicly released until now.
The PowerPoint slides, which were obtained by the government watchdog group
Judicial Watch
, provide detailed insight into the so-called Equal Opportunity briefing delivered on April 2, 2015.
"Privilege exists when one group has something of value that is denied to others simply because of the groups they belong to, rather than because of anything they've done or failed to do. Privilege has become one of those loaded words we need to reclaim so that we can use it to name and illuminate the truth," the slideshow read.
"Our society attaches privilege to being white and male and heterosexual regardless of your social class."
"Imagine a school or a workplace where all kinds of people feel comfortable showing up … valued, accepted, supported, appreciated, respected, belonging," the presentation continued. "Something very powerful keeps this from us. The truth of this powerful forces is everywhere, but we don't know how to talk about it and so we act as though it doesn't exist."
The slideshow instructed the soldiers that such privilege results in a "yawning divide in levels of income, wealth, dignity, safety, health and quality of life [and] promotes fear, suspicion, discrimination, harassment, and violence."
The presentation also featured a hypothetical story about a black woman to illustrate that the United States is "organized according to race."
"Consider the 'black woman' in Africa who has not experienced white racism and does not identify herself as a 'black woman.' African, a woman, but not black. She only became 'black' when she came to the U.S. where privilege is organized according to race, where she is assigned to a social category that bears that name and she is treated differently as a result," the slideshow read.
The slideshow instructed "privileged" soldiers to do something about the alleged problem.
"The trouble we're in can't be solved unless the 'privileged' make the problem of privilege their problem and do something about it. The fact that it's so easy for me and other people in dominant groups not to do this is the single most powerful barrier to change," the presentation concluded.
The new details of the diversity briefing come nearly a year after controversy first
erupted
over a slide used in the training that discussed "white privilege." The slide, entitled "The luxury of obliviousness," was posted on Facebook following the briefing and invited a slew of negative comments.
"Race privilege gives whites little reason to pay a lot of attention to African Americans or to how white privilege affects them. 'To be white in America means not having to think about it,'" the slide, which was also among the documents obtained by Judicial Watch, read.
A spokesperson for the Army responded to the outrage last April by saying that the slide was inappropriately shown to soldiers and that the diversity briefing was not officially authorized.
"The unit [Equal Opportunity] instructor deviated from the authorized topic and content which was provided," Army spokeswoman Capt. Lindsay Roman said at the time. "To prevent further instances, all unit instructors will receive additional training on the importance of following Army EO training requirements."
Source
.