Democratic candidate's Vatican visit gives him a chance to shine among white Catholics considered pre-eminent swing voters, but the trip is raising eyebrows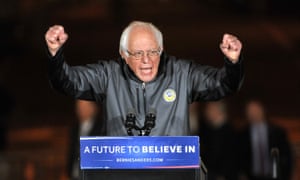 Bernie Sanders spoke at a rally in New York before he headed to the Vatican. Photograph: D Dipasupil/WireImage
Stephanie Kirchgaessner
in Vatican City
Friday 15 April 2016 03.00 EDTLast modified on Friday 15 April 201603.02 EDT
The Vatican seems like an unlikely pit stop for a US politician trying to wage a political revolution. But with just four days to go before the critical New York primary, Bernie Sanders' detour to Rome, where he will participate in a Vatican-sponsored conference on economic and social issues on Friday, represents an opportunity for the Vermont senator to align himself with a man whose scathing criticisms of capitalism and income inequality closely resemble his own:
Pope Francis
.
No meeting with the pope is planned, a Vatican spokesman confirmed. But the trip gives the leftwing candidate for the Democratic presidential nomination, who is aiming for an unlikely upset over frontrunner Hillary Clinton, a chance to shine among Catholic voters, especially white Catholics who are considered the pre-eminent swing voters of any presidential election.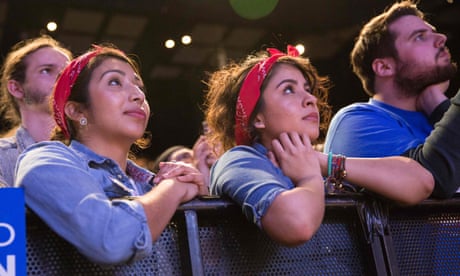 Which issue do you want US election candidates to discuss?
"Clearly this pope is very popular and I think that Sanders is correct in saying his views are closer to the pope than most other candidates' views," said Thomas Reese, a Jesuit priest and senior analyst for the National Catholic Reporter. "Everyone likes to wrap themselves in the aura of some popular person, so this isn't a big surprise."
Experts have said that there is no easy way to categorise the US "Catholic vote" given its breadth. Since one in five Americans identify as Catholics, the so-called Catholic bloc votes mirror how the country votes. However, there are some trends: Hispanic Catholics overwhelmingly support Democratic candidates over Republicans in presidential elections and white Catholics who identify as moderates are considered swing voters. Exit polls suggest that the "Catholic vote" has gone with the winner of the popular vote in presidential elections since 1972, including in 2008 for Barack Obama.
A poll by Pew Forum released in January suggests that Clinton has an edge among Catholics, with 69% of Catholic Democrats saying she would make a great or good president, compared with 46% who say the same about Sanders.
While it might have been considered unimaginable for a progressive candidate like Sanders to seek approval from a pope over the past few decades – given the church's vehement opposition to same-sex marriage, contraception and abortion – Sanders' move shows that Francis's popularity (nine in 10 American Catholics have a favourable view of him) and outspoken advocacy for the poor and disenfranchised, and his environmentalism, are considered by Sanders to be more important than other ideological differences. Whether voters might be swayed by the appearance of Francis's approval for Sanders – he has also
openly questioned whether Donald Trump is a true Christian
– is more difficult to predict.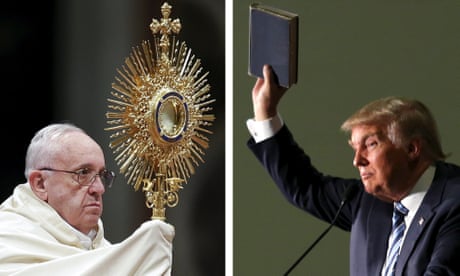 Donald Trump calls Pope Francis 'disgraceful' for questioning his faithl
"When
Bernie Sanders
first got in the race, he wanted to air and elevate some issues like economic inequality and push Hillary Clinton to the left ... He's probably back to that plan, so this is a good thing for Bernie to do," said Charlie Cook, editor and publisher of the non-partisan Cook Political Report.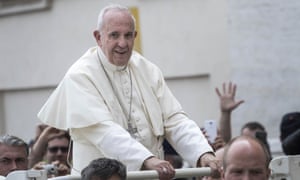 Pope Francis will be engaged in a high-profile trip to Lesbos on Saturday, where his presence will highlight the plight of Syrian and other refugees who are stranded on the Aegean island. Photograph: Pacific Pres/Rex/Shutterstock


That does not mean that Sanders could not face pitfalls in his unorthodox foray into Vatican City. Unlike the carefully choreographed trip to Berlin by then candidate Obama in 2008, in which he sought to prove his foreign policy credentials in front of a crowd of tens of thousands of adoring Germans, Sanders' decision to head to the Vatican raised eyebrows even before his arrival in Rome.

Far from addressing the pope himself, Sanders will be offering remarks at an academic conference organised by the Pontifical Academy of Social Sciences, which is also hosting the Bolivian president, Evo Morales, and the Ecuadorian president, Rafael Correa. In Italy, the conference has sarcastically been dubbed the International Congress of Socialists in the Holy See.

Last week, after news of Sanders' visit broke, the head of the academy, Margaret Archer, told Bloomberg News that Sanders had broken protocol by essentially inviting himself, a charge that was then denied by the council's chancellor, who defended Sanders.

The venue holding the conference is so small that reporters covering the event will be huddled around a TV airing the remarks from a separate room and will not be able to direct questions to the participants.

Furthermore, the trip is taking Sanders off the domestic campaign trail during a critical weekend when he could have been pressing flesh in upstate New York, where his anti-trade views could resonate, or delegate-rich Pennsylvania, which votes on 26 April.

According to the conference agenda, Sanders will be delivering remarks on the "urgency of a moral economy". He will be preceded by an Italian politician and member of the pontifical academy named Rocco Buttiglione, who served as a minister in the government of conservative prime minister Silvio Berlusconi and whose nomination as a European commissioner was withdrawn in 2004 because of opposition to his views against homosexuality.

The Vatican's chief spokesman, Father Federico Lombardi, on Thursday ruled out a meeting between Sanders and Francis – the American democratic socialist and the the unpredictable Argentinian pope who called unfettered capitalism the "dung of the devil" – saying none had been planned, a fact that some Vatican watchers said reflected Francis's desire to avoid looking overly political. Francis will be engaged in a high-profile trip to Lesbos on Saturday, where his presence will highlight the plight of Syrian and other refugees who are stranded on the Aegean island.

"On the one hand," Reese said, "the last thing the pope wants is a photo-op with a candidate this close to an election. On the other hand, any US senator who comes to Rome would get a chance to see the pope and have a picture taken, get a rosary and a blessing."