HB2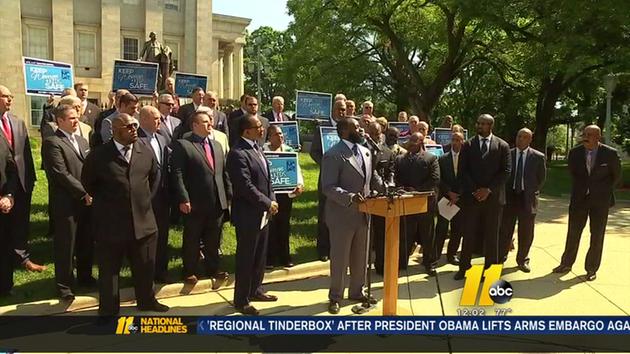 Faith leaders talk about HB2 at a news conference in Raleigh.


Updated 1 hr 46 mins ago
RALEIGH (WTVD) --A group of African American pastors and faith leaders is taking aim at the Attorney General over comments she made about transgender rights.
The criticism centers on the directive issued by the Obama administration to allow transgender students to use the bathroom matching their gender identity.
Community leaders representing the North Carolina Values Coalition held a news conference at the state capital Tuesday to discuss Attorney General Loretta Lynch's comparison of transgender bathroom rights to the Civil Rights Movement - a comparison they called "offensive and false".
Watch: Faith leaders address HB2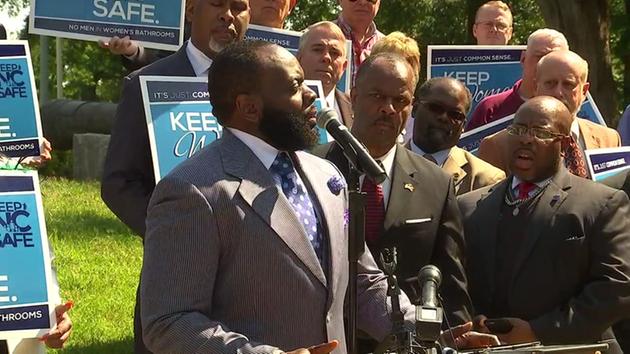 "The language of 'civil rights' shouldn't be hijacked to give privileges to the politically vocal while taking away freedoms from people disfavored by government.
The Administration is threatening people of diverse backgrounds-if they do not promote ideas and participate in events that align with their extremist agenda, they will pull opportunity, funding, and the right to privacy,"
said Bishop Dr. Patrick Wooden, Senior Pastor and Bishop, Upper Room Church of God in Christ in Raleigh.
"HB2 is right, is right all day. It's the President that is wrong," offered Jimmy H. Bention, Sr., Pastor, Metrolina Christian Center Church Of God In Christ in Monroe, NC.
Under House Bill 2, transgender people must use the bathroom that corresponds with their birth certificates, not their gender identity. The law was designed to block a Charlotte non-discrimination ordinance, part of which allowed transgender people to use bathrooms and locker rooms of the gender they identify with. The law also excludes lesbian, gay, bisexual and transgender people from anti-discrimination protections and blocks municipalities from adopting their own anti-discrimination and living wage rules.
North Carolina and the Justice Department are battling the issue in opposing lawsuits.
When announcing the federal government's lawsuit, Attorney General Lynch, a Durham native, said HB2 is in opposition to federal laws prohibiting discrimination on the basis of sex and gender identity.
"This is not the first time that we have seen discriminatory responses to historic moments of progress for our nation. We saw it in the Jim Crow laws that followed the Emancipation Proclamation," she said in part. "We saw it in fierce and widespread resistance to Brown v. Board of Education."
"Recently, U.S. Attorney General Loretta Lynch compared HB2 to Jim Crow. Jim Crow laws were put into place to keep an entire race positioned as second-class citizens. HB2 simply says that men and women should use the restroom of their biological sex in government buildings and schools. This comparison is highly offensive and utterly disrespectful to those families and individuals who have shed blood and lost lives to advance the cause of civil rights," said Clarence Henderson, a civil rights leader who participated in the Woolworth Sit-In in Greensboro in 1960.
But Henderson's opinion isn't unanimous amongst civil rights activists. The North Carolina NAACP has been vocal in its opposition to House Bill 2.
"It's a hate bill full of racist and class-based and homophobic legislation," offered NC NAACP President Rev. William Barber at a news conference
in April
.
Taking questions during an unrelated event in Fayetteville Tuesday, Attorney General Lynch said she respects the pastor's opinions, but disagrees.
"While the Civil Rights Movement, certainly in this state focused on racial discrimination, civil rights and human rights are not limited to any one particular issue or even one particular group of people. Where there are people who feel victimized and are indeed victimized and made to feel vulnerable simply because of a physical characteristic over which they have no control - that is exactly what the civil rights laws are meant to cover," said Lynch.
.