Posted by
News Editor
in
Food
,
Latest News
,
RSS
on October 16, 2017 6:23 pm
ROME, Italy, October 16, 2017 (ENS) – Pope Francis today urged governments around the world to work together to make emigration a safer and more voluntary choice, saying that food security for everyone requires tackling climate change and ending conflicts.
The Pope made his appeal in a speech to the audience at the official World Food Day ceremony at the United Nations' Food and Agriculture Organization, FAO, headquarters in Rome.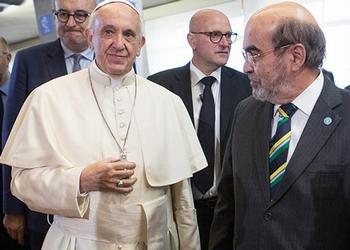 Pope Francis and Jose Graziano de Silva, head of the UN Food and Agriculture Organization at the World Food Day ceremony in Rome, Oct. 16, 207 (Photo courtesy
FAO
)


"It is clear that wars and climate change are the cause of hunger, so we do not present hunger as if it were an incurable disease," said the pontiff.

After steadily declining for over a decade, hunger is on the rise again and of the 815 million hungry people on the planet, 489 million live in countries affected by conflict, the annual UN report on food security and nutrition revealed last month.

The Pope has called for a total commitment to a gradual and systematic disarmament, and he has called for a change in lifestyles and resource use as well as food production and consumption to protect the planet.

"What is at stake is the credibility of the entire international system," he said.

About the development of the Global Pact for safe, regular and orderly migration, the first agreement of its kind negotiated by governments under UN auspices, Pope Francis said, "Human mobility management requires coordinated and systematic online intergovernmental action with existing international standards, full of love and intelligence. "

He then said that unfortunately some countries are moving away from the Paris Agreement on climate, which was agreed by consensus of world leaders in 2015.

The executive director of the UN World Food Programme made an impassioned plea for peace amid mounting evidence of the links between conflict, migration and rising hunger.

Concerns are growing that progress in defeating global hunger is being reversed as record numbers of people flee their homes to escape fighting.

"Someday in the future, World Food Day will be a celebration of a peaceful and well-fed world. Sadly, that day seems very far off right now. We have far too much violence and conflict, and that is why we have more people who are hungry and in need of assistance," said WFP Executive Director David Beasley.

"I call on the people in power, the people with guns, to stop the fighting now," said Beasley, who has met many people fleeing conflict and violence in Yemen, South Sudan and Bangladesh over the past few months.