2/16/2017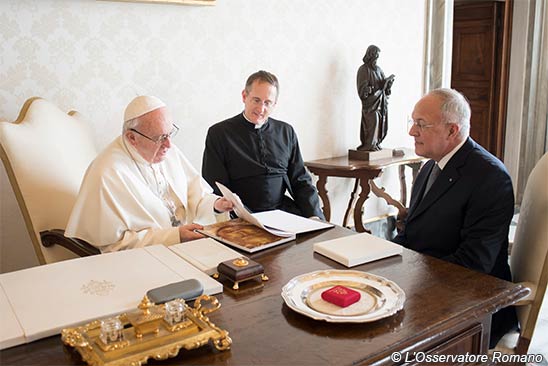 Pope Francis examines a copy of La Madonna del Soccorso nella Basilica Vaticana (Our Lady of Help in Saint Peter's Basilica) a new book documenting the restoration of an ancient and highly venerated image of the Blessed Mother, carried out during the Year of Faith by the Fabbrica di San Pietro with the sponsorship of the Knights of Columbus. It was the first such restoration undertaken during the pontificate of Pope Francis, and the book is dedicated in the Holy Father's honor.
Pope Francis received Supreme Knight Carl Anderson in audience at the Vatican on Feb. 16.
At that audience, Supreme Knight Anderson discussed with the Holy Father the Knights of Columbus' many initiatives, especially its work on behalf of persecuted Christians in the Middle East. He also presented the earnings from the Knights' Vicarius Christi Fund, in the amount of $1.6 million.
The proceeds are given annually to the pope for his personal charities. Since the fund's inception in 1981, more than $57 million in earnings has been donated.