Jan 7, 2016
Tens of thousands trapped in besieged mountain town close to capital Damascus
Facebook
Residents in a Syrian town close to Damascus are reportedly being forced to eat leaves and pets to survive.
Up to 30,000 people have been trapped in the mountain town of Madaya, which lies a few dozen miles from the capital, since July, under a tight siege by pro-government forces, reports
The Guardian
.
President Bashar al-Assad's forces have imposed restrictions on the town and its neighbouring city Zabadani, which was once a stronghold of the opposition. Residents say they are being punished for the suffering of two villages, Fua and Kefraya, in the Idlib province hundreds of miles away, which were captured by rebels last year.
"People are dying in slow motion," said Louay, a social worker from Madaya. "We had some flowers growing in pots at home. Yesterday, we picked the petals and ate them, but they were bitter, awful."
With a kilogram of rice costing as much as £170 on the black market, people are now buying it by the gram.
"I swear by God - and you might not believe me because it sounds fantastical - I tried to buy some food today but a kilo of rice is 100,000 [Syrian] pounds (
£311
)," said Louay. "A kilo of rice, bulgur, lentil, sugar – 100,000, 100,000, 100,000. That is if you can find it."
Protests as besieged Madaya residents starve - amateur video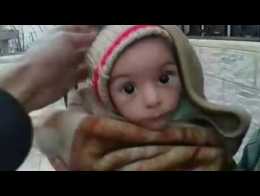 video playing
He added: "I've personally seen
people slaughtering cats to eat them and even the trees have been stripped of leave
s now."
Activists have shared pictures of emaciated elderly men and starving children. Some youngsters are risking their lives trying to collect plants in minefields around the town's outskirts and several have lost limbs, residents said.
"Whether you are a man, woman, child, whether you're 70 or 20 years old, you will have lost about 15kg [33lbs] of your weight," said Ebrahem Abbass, a defector who had served as a sergeant in the Syrian army. "You don't see a child whose eyes aren't sunken and staring from hunger."
Source
.