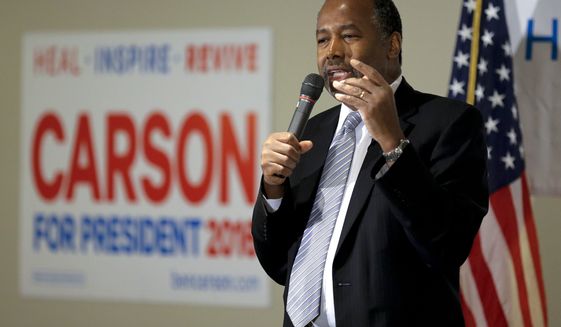 Monday, February 1, 2016
Dr. Ben Carson
on Monday night made a last-minute pitch to evangelical voters in Iowa, saying the U.S. must not hide behind "political correctness" and banish God from the public square.
Speaking at a caucus site in Clive, Iowa,
Mr. Carson denounced the notion of separation of church and state.
"We Americans must be proud of who we are. We cannot give away our values and principles for the sake of political correctness," he said as tallies began to come in from the crucial Iowa caucuses, the first contest in the presidential primary season.
"
There are those who go around proclaiming separation of church and state.
You can't put anything up that has anything to do with God … I'll have a seizure if I see a cross and all of this kind of crap," he continued. "The fact of the matter is — do they realize that our founding document, the Declaration of Independence, says we have certain unalienable rights given to us by our creator, AKA, God."
Polling shows
Mr. Carson
trailing far behind other GOP candidates, including businessman Donald Trump, Sen. Ted Cruz and Sen. Marco Rubio.
Mr. Carson
's campaign announced that he will head home after the caucuses and take a break from the campaign trail for a few days.
Mr. Carson
is "leaving Des Moines later tonight to avoid storm. Not suspending — getting fresh clothes then back out Wednesday," campaign strategist Jason Osborne tweeted.