Photographer: Louisa Gouliamaki
AFP via Getty Images
By
Brian Parkin
‎June‎ ‎16‎, ‎2018‎ ‎8‎:‎14‎ ‎AM‎ ‎EDT
European remedy needed to solve European challenge, she says
French-German meeting June 19 will seek policy options
German Chancellor Angela Merkel says she will turn to France to help diffuse a
domestic crisis
over migration amid an increasing risk that the European Union may unravel unless its member states adopt a common policy.
At a regular meeting of their joint Cabinets on Tuesday, Germany will seek the support of French President Emmanuel Macron to find a common EU response for managing an influx of refugees, Merkel said Saturday in a weekly
podcast.
The stakes for the EU are high, she said.
A dispute in Merkel's coalition over migration policy has escalated into one of the biggest tests of her chancellorship, while the populist government that took over in Italy this month has blocked refugee vessels from entering Italian ports.
Getting all of the EU states on board for an overhaul of asylum practices and rules is "in my view one of the most decisive issues for European unity," the Christian Democrat chancellor said. The inflow of migrants is "a European challenge that requires a European answer."
Read more: Merkel Risks Crisis in Refugee Clash With Allies
As the domestic
storm
unfolded this week, Merkel remained insistent that the EU-28 can only solve migration challenges as a group. That's fomented a deep rift between her CDU and its Christian Social Union allies, who claim they have national and EU authorization to start turning away refugees arriving on Germany's borders who first claimed asylum in other EU states.
A European solution "doesn't convince me," said Bavaria's Prime Minister Markus Soeder in a June 14 Bild Zeitung interview. The move would mean "the majority of asylum seekers who come to Europe make their way to Germany."
The joint cabinet meeting with France offers Merkel a chance to air proposals for revamping regional asylum policy ahead of a European Council meeting June 28-29. Merkel has asked the CSU to be patient, a request that the Bavarians have ignored.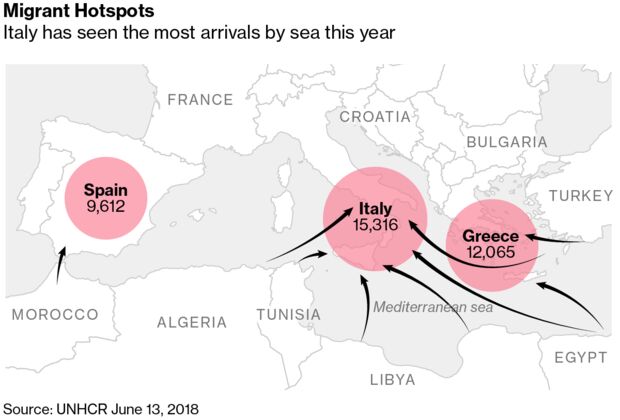 A surge in asylum seekers crossing EU borders since 2015 dramatically exposed the inadequacy of the bloc's asylum rules and practices, feeding support for populist movements that have helped bring about regime changes in states including Austria and most recently Italy.
Italian Interior Minister Matteo Salvini, who this month refused entry for a boat with 600 refugees, on Saturday said on his Facebook page the country won't permit two ships allegedly carrying migrants and asylum seekers from Libya to reach its shores.
Read more: Italy, France Stress Friendship After Refugee Spat
Salvini's battle to curb arrivals from across the Mediterranean has strained relations between the new governing coalition in Rome and France just over a week after the administration led by the League party and the
Five Star Movement
was sworn in.
From January to May, about 78,000 people sought asylum in Germany compared with 90,000 a year ago, the Passauer Neue Presse newspaper said Saturday, citing Interior Ministry data. About a fifth of the refugees in Germany this year were registered in other EU states and would have been turned away were rules in force sought by the CSU, the paper said.
Read More: Italian Roadshow to Test Immigration Stance
German Interior Minister Horst Seehofer, who also leads the CSU, may be tempted to use his powers to implement his party's call for more powers to turn away refugees registered in other EU states. Recent polls at least show a slim majority of Germans back Seehofer even though the method may foment problems with Mediterranean partners like Italy.
Some 49 percent of voters surveyed last week by pollsters Civey for Die Welt newspaper said they either "definitely" or "sooner" place trust in Seehofer to solve the perceived asylum crisis compared with 32 percent who said Merkel has the right approach. Civey polled 5,051 Germans of voting age on June 14-15.