Michael J. O'Loughlin
April 26, 2018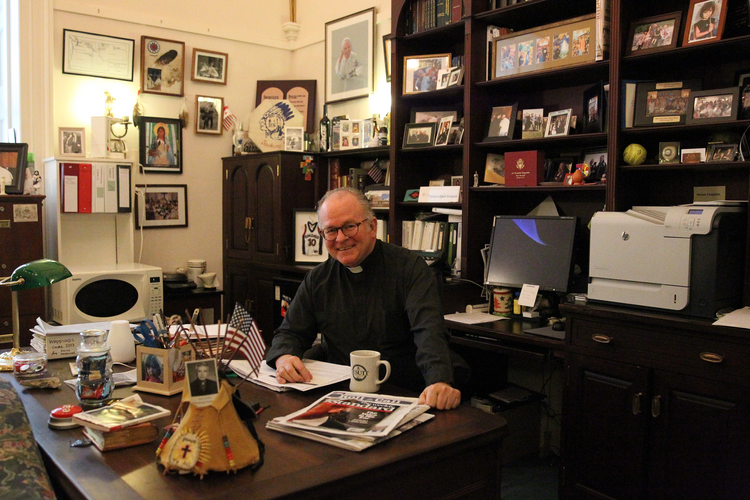 Patrick J. Conroy, S.J., seen here in June 2017, had been the chaplain of the U.S. House of Representatives since 2011. (CNS photo/Rhina Guidos)
A Jesuit priest who served as chaplain to the U.S. House of Representatives since 2011 was forced to resign by Republican Speaker Paul Ryan e
arlier this month,
The Hill newspaper reported
Thursday.
According to the report, Patrick Conroy, S.J., submitted his resignation earlier this month, and it included a reference that it was written at the request of Speaker Ryan, who is Catholic.
"As you have requested, I hereby offer my resignation as the 60th Chaplain of the United States House of Representatives," the letter reads, according to The Hill.
Members of Congress from both parties expressed shock at the forced resignation, The Hill reports, with one congressional aide telling reporters that
the speaker was dismayed by a prayer Father Conroy gave on the House floor that some may have interpreted as being critical of the G.O.P.-backed tax bil
l that passed last year.
"May their efforts these days guarantee that there are not winners and losers under new tax laws"—Father Conroy in a House prayer last fall
Tweet this
"As legislation on taxes continues to be debated this week and next, may all Members be mindful that the institutions and structures of our great Nation guarantee the opportunities that have allowed some to achieve great success, while others continue to struggle," Father Conroy said on Nov. 6, 2017. "May their efforts these days guarantee that there are not winners and losers under new tax laws, but benefits balanced and shared by all Americans".
A Republican aide told the newspaper Father Conroy's dismissal was not because of one particular prayer. Another aide, a Democrat, told the paper that some members took issue with Father Conroy's decision to invite a Muslim to lead a prayer. Imam Abdullah Antepli, who works at Duke University, delivered a prayer on the House floor in October 2017, the eighth Muslim prayer delivered there since 2001,
The Washington Post
reported last year.
RELATED STORIES

Meet the Jesuit chaplain who prays for Congress. He could use your help.
Jeremy Zipple

Catholics have peak clout in the new U.S. Congress
Robert David Sullivan
Father Conroy's resignation was made public in an April 16
statement from Speaker Ryan's office
, in which Mr. Ryan said, "Father Conroy has been a great source of strength and support to our community. He is deeply admired by members and staff. Father Conroy's ministry here has made a difference, and we are all very grateful to him."
A spokesman for Minority Leader Nancy Pelosi, who is also Catholic, told The Hill that the Democrat was made aware of Mr. Ryan's plans to fire the chaplain—but passed along her disagreement with the decision.
"Catholic members on both sides of the aisle were furious to learn that Conroy's retirement was not voluntary, according to multiple sources, including one Republican lawmaker and one Democratic member," The Hill reported.
A bipartisan search is underway for a new chaplain. Father Conroy's last day will be May 24.
Source