07/18/2018 06:00 pm ET
The pop star told Vogue Australia she admired Francis' humility, compassion and love of animals.

By
Carol Kuruvilla
Pope Francis has apparently left quite an impression on pop star Katy Perry.
The American singer-songwriter, who
met the pope in April
, told
Vogue Australia
that she's a "big fan" of Francis.
"It's a combination of compassion, humility, sternness and refusal," Perry said in a wide-ranging interview published Wednesday. "He is rebel ― a rebel for Jesus."
Perry said she appreciated the pope's
love of animals
, and that he took the name of her favorite saint,
Francis of Assisi
. She also said she admires that he sticks to his vow of poverty, even at the Vatican.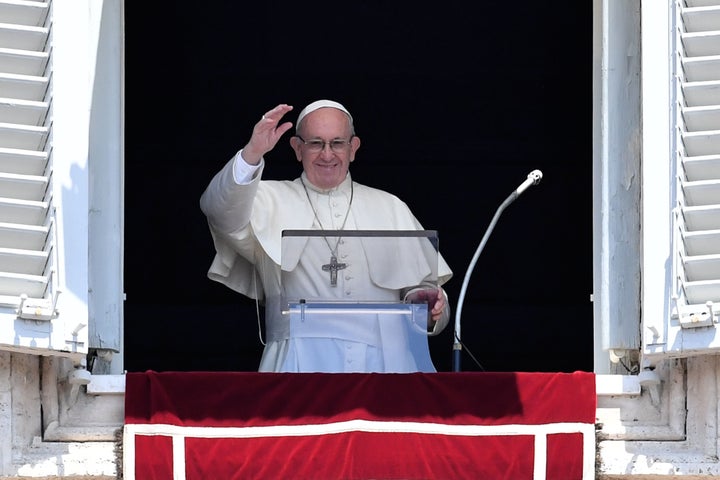 ANDREAS SOLARO via Getty Images Pope Francis waves to the crowd during the Sunday Angelus prayer at the Vatican on July 15.
The pope is indeed known for his simple lifestyle. He has opted to live at a Vatican City guesthouse instead of the much grander papal apartments at the
Apostolic Palace
, and he's known for popping out to local shops in Rome to buy his own
shoes
and
eyeglasses
.
"He is bringing the Church back to humility and connecting with people," Perry said. "He's very humble and not frivolous."
Perry briefly
met Francis at the Vatican
while she was in town for a health conference in April.
She was chosen to speak at the international meeting about
the benefits of Transcendental Meditation
, a technique she credits with helping her gain control over her anxiety and stress.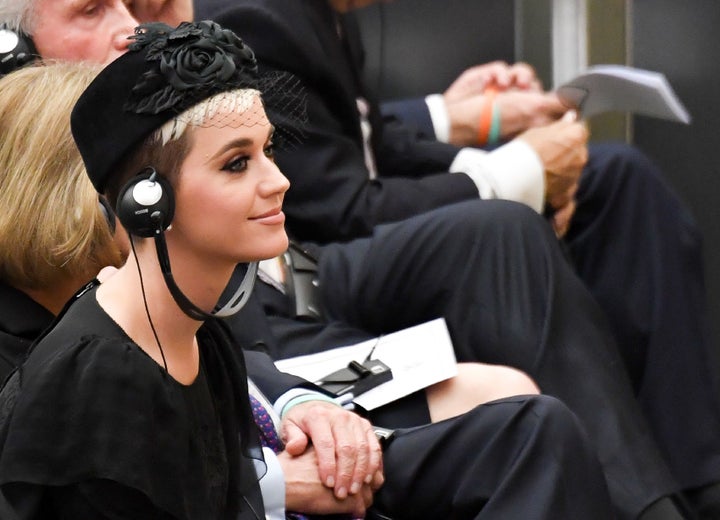 ANDREAS SOLARO via Getty Images Katy Perry looks toward an unseen Pope Francis as he welcomes participants to a health conference at the Vatican on April 28.
Perry's parents are evangelical Christian pastors
, but
her mother was raised as a Roman Catholic
. The singer told Vogue that she went to Mass with her mom while on her recent tour ― an experience that left a deep impact on her.
"She hadn't sung those songs in 40 years and watching her made me cry," Perry said. "It's so beautiful and humbling to re-center in a place where it's not about anything else but reconnecting with the divine."
The star has often
spoken about breaking free from her sheltered, conservative upbringing
― and about how she has found comfort in spirituality that exists outside of traditional religious denominations.
Perry told
Marie Claire
in 2013 that she has connected with her spiritual side through meditation and the writings of Eckhart Tolle. She said she doesn't believe in a heaven, hell "or an old man sitting on a throne," but that she does believe in a higher power and feels a deep connection with God. She said she prays for self-control and humility, as well as to give thanks.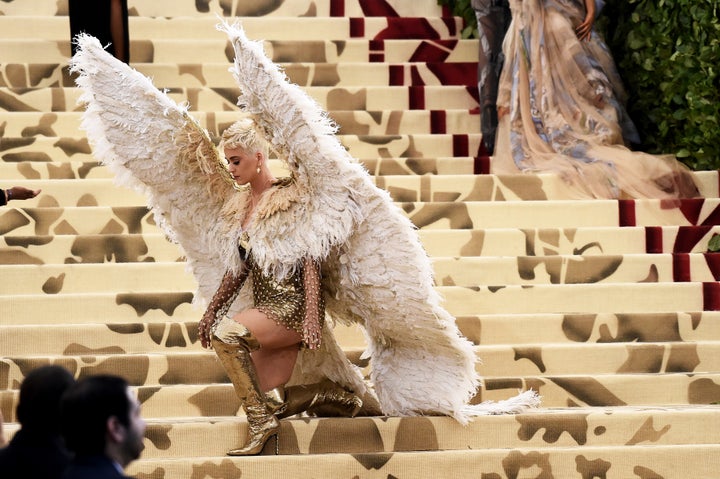 Steven Ferdman via Getty Images Katy Perry attends the 2018 Met Gala in New York City. This year's theme was "Heavenly Bodies: Fashion & The Catholic Imagination."
Perry told Vogue Australia she felt a sense of "brokenness" and "situational depression" when she received
negative
reviews
for her 2017 album "Witness." To help her find her balance after the setback, she said she attended a week-long personal growth retreat at California's
Hoffman Institute
in January.
"That brokenness, plus me opening up to a greater, higher power and reconnecting with divinity, gave me a wholeness I never had," she said. "It gave me a new foundation. It's not just a material foundation: it's a soul foundation."
Perry said her mom has prayed for her throughout her life, hoping that the star would "come back to God."
"I never left him," Perry said. "I was just a little bit secular, I was more materialistic and more career-driven. But now that I'm in my 30s, it's more about spirituality and heart wholeness."